Building Your Practice through Stakeholder Relationships, Part V
Thomas E. Cavanaugh, DC, MBA

Developing the Local Political Stakeholder Relationship

As defined in Part 1 of this series of newsletters, "stakeholders' are individuals or groups who can influence or are affected by a corporation´s activities. In our field of chiropractic this would be staff, community, patients, attorneys, the insurance industry, Chamber of Commerce, local charitable clubs and any other organizations pertinent to your business. In Parts II, III, and IV we established the importance of "Patient', "Supplier' and "Community' stakeholder relationships. In this issue, I will address the local "Political' stakeholder relationship.

All businesses, including chiropractic practices, are shaped and controlled to some degree by local, state and federal politics. As an example, local laws and ordinances tell you how far from the sidewalk or street you must build your office. They also dictate how large your sign can be, where it can be placed and sometimes even what colors can be used. If your practice is in a strip mall, your landlord may be require you to be open certain hours. This is mostly a matter of politics.

I recall wanting to purchase a corner property that I knew would be the busiest corner in town in the next five years. But, thanks to the local city planning department, the property was reserved for a more popular business like a gas station or a restaurant and if I were to purchase it, I would not be allowed to put any other kind of business there. The city planning department also controls the size of new buildings, and establishes restrictive building codes that are strictly enforced.

Corporate involvement is crucial in order to assure that local laws and ordinances are established in support of all lawful businesses and not just a favored few. You can play a roll in the laws that are passed in your town by actively participating in local politics. You don´t have to be a lawyer or a politician. All you have to be is a concerned citizen who can think and render an opinion. As a doctor, you can sit on the political action committee of your local Chamber of Commerce, or you can voice your opinion at the local city council meetings held regularly in your community. If you haven´t done so already, attend one of those meetings and you will see just how easy it is to sway the opinion of those on city council. You can make a difference.
---
Maximize Your Referral Factor: A Chiropractor's Proven Strategies to Limitless Referrals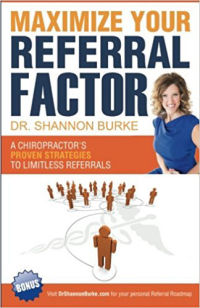 If you are looking for clients for life, Maximize Your Referral Factor is the book for you! Not only is this book a blueprint of strategies for exploding referrals in your private practice, it is also the confidence-builder and motivational push needed to implement in a big way! In this book, you will discover how to: Become the Most Referable You. Achieve Instant Relationships with Every Patient. Find Boundless Confidence in Your Practice. Accelerate the Making of a Lifelong Customer. Build Limitless Loyalty. Find and Keep the Best Patients for Life And…Discover the #1 absolute, most important question you must ask every patient to see your referrals sky-rocket! Dr. Shannon Burke shows step-by-step examples of how medical professionals of all disciplines can grow their practices quickly and ethically with these proven strategies. What others are saying about Maximize Your Referral Factor: "Maximize Your Referral Factor is the go-to guide for any service provider seeking clients for life. Dr. Shannon is living proof that these strategies work as she lives them every day in her full and referral-packed practice. She teaches her clients how to do the same and now shares with all of us these sought-after secrets. This book is a treasure house of golden nuggets guaranteed to grow your business!"
---
People who run political campaigns and are in support of your business, will also appreciate your help. By helping out in this political arena, you are helping to protect that which is important to you and your practice. You can even take a stand on a candidate and do some door-to-door campaigning. Sounds tough? Well, when people learn you are the local doctor in town and want to use your services, you´ll change your mind. An influx of new patients from an activity we didn´t really want to do, quickly turns that activity into one we can´t wait to do again. Challenge yourself … get out of your comfort zone and do those political activities that get you known and respected in your community.
Another valuable benefit in being active in your local politics is that you will get to meet the "movers and shakers' in your community, and vice versa. This experience can bring you opportunities to render chiropractic care to small or large corporations, to help companies reduce their on-the-job injury expenses, etc.. Doors will open to you that were never opened before. As they say, "luck is when preparation meets opportunity.' Make your own luck and be prepared for the opportunities to build your practice and advance your profession, as you creatively think of how you might support the political aspect of stakeholders in your community.
Don´t ignore your local chiropractic association. Your profession is counting on your voice and support. Take the time to render your opinion and help promote the public´s awareness of chiropractic. If too many of us surrender our opinions to those voices against us, they are sure to win.
While local city and county laws impact where we practice, state and federal laws control how we practice. In order to protect and advance our rights to practice chiropractic, our state and national chiropractic organizations use the full time services of attorneys and lobbyists to educate and persuade voters and politicians … further developing and improving our state and federal political stakeholder relationships. Support your state and national chiropractic organizations – they are fighting for your rights as a primary health care provider.