The Consultation, Part III
In last week´s Part II of this series on "consultation,' the importance of empathy (understanding how your patient must feel and what he or she is probably thinking), and taking action to develop a professional rapport with your patient was addressed. This third and final part will deal with the "appearance' side of an impressive consultation.
However, before beginning, there is a success rule that must be stressed here and that is "you must believe wholeheartedly in what you are doing in order to convey the confidence that will assure you the greatest success.' Listen and learn from those more knowledgeable and then use that knowledge in a way that you are most comfortable with and that will still produce the desired results.
The Patient – Exam Gown or Street Clothes?
Some doctors are comfortable having the patient gown up before the consultation. This allows the doctor to go immediately to the exam from the consultation without having to leave the room and wait for the patient to change. It is a time saver.
Other doctors, myself included, prefer to allow the patient to remain in their street clothes during the consultation. This gives the patient a little time to get to know the doctor and feel a bit more at ease prior to the exam.
Regardless of what you prefer, your choice should be based on being able to establish a rapport with your patients, gaining their confidence and getting their approval to proceed.
The Doctor – Polo or Business Shirt?
Doctors should dress like the professionals they are. Polo shirts and t-shirts are okay for physical therapists or sport trainers, but that is not the image that D.C.s want to convey to their patients. The best patient-attracting attire for a male doctor is a white shirt, conservative tie and nicely pressed slacks. The female doctor projects the best image in a conservative blouse and nicely pressed slacks or skirt. Both doctors should wear a crisp white doctor´s jacket with their name either embroidered on it, or engraved on a name tag. Professionalism and education is what your patients should think of when they first meet you.
The Location – Personal Office, Exam Room or Treatment Room?
The most favorable place to conduct an impressive consultation is in the doctor´s personal office where the furnishings are plush, professional and comfortable, and where patients can easily see and read the doctor´s scholastic degrees.
A doctor who is an expert in performing consultations, who easily develops rapport with patients, and who exudes professionalism, can perform an impressive consultation almost anywhere in the office. This type of doctor may opt to conduct consultations in the exam room, thereby saving time in not having to move from one room to the next. If the exam room is busy, this same type of doctor may choose to use a treatment room for the consultation and exam.
Some doctors have a special room built specifically for consultations. Having this separate room is expensive per square foot since it is not producing dollars as a treatment or x-ray room does. If you choose to have a separate consultation room and your practice will comfortably support that choice, be wise and design the room so that it can also be used for video education of patients, CA training using professional online video classes (available at www.MBAchiropractic.com), outside sales presentations, nutritional counseling and analysis, etc.
The point is, don´t get hung up on where the consultation should be conducted. Choose the location that is most comfortable for you and your patients, and one that will help make your consultations as impressive and effective as possible.
Conclusion
Personal professional attire, and a keen awareness and consideration of your patient´s comfort and ease during the consultation are important elements in conducting the most impressive consultation. Remember to ask yourself, "What perceptions does this patient have as he or she walks into my office and sits down with me to discuss his or her concerns?' And, then conduct your consultation in a fashion that will meet or exceed your patient´s expectations.
As far as location goes, the stronger your belief is in what you are doing and the more confidence you have in doing it, the more flexibility you will have in "where' you can successfully conduct your consultations.
As a final note, you can be perfect in appearances and location but if the right words are not used, your consultations will fail to reach the desired results.
The Ultimate Chiropractic Practice: How You Can Double Your Income in 60 Days or Less Without Feeling Overwhelmed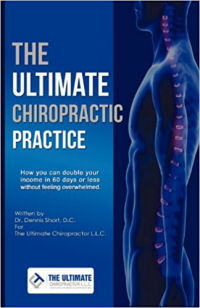 Some say that it is getting harder and harder for chiropractors to become successful. The median chiropractor earned $85K/yr. in 1985 yet today the median is only $67K/yr. At first glance it appears we are in a dying profession. However, many chiropractors continue to earn 4 to 5 times the national median wage. What separates one doctor from another? How is it that one doctor can earn $250K/yr. while another can barely put food on the table? This book can teach you what separates the haves from the have not's. It can teach you the keys to running a successful chiropractic office that is not only enjoyable to work in but one that is also extremely profitable. It can teach you how to better manage patients and get them motivated to finish your treatment protocols. It can show you how to become a better healthcare leader and how to better manage your staff. But most of all it will give you a sense of direction. All of these things can be yours, but you must first take responsibility for your business. Nothing in life just happens and neither will your office flourish without proper work and leadership. If you keep doing what you are doing you will keep getting what you are getting. If your business is struggling it is not because it is spring break or Christmas holidays, it is because of who you are and what you do. Socrates stated, "A unexamined life is not worth living." And a business that you don't control is not worth having. This book is teaching you how to gain back your control. Getting a grip on your business is the first steps in controlling your life and your income.