Accept Your Role as a Teacher, Part VI
MBA Chiropractic Consulting

In part V of this series I discussed the importance of using "visual aids' in order to involve some of the other senses to better communicate difficult concepts. I will use this article as a continuation of the same subject.

Decorate Your Walls to Educate

Visual aids impact the sensory make-up of human beings, which assists in retention of data that is presented to them. In teaching, the more sensory experiences that an individual experiences the more they will remember what is being taught.

As you will be doing a considerable amount of teaching in your exam and treatment rooms, I recommend you decorate those walls with charts that you can use to show your patients the things you are trying to teach them. To me it makes no sense to sacrifice valuable teaching space by filling it with pretty paintings - save those for your reception room. Your exam and treatment room walls should be used to exhibit the educational materials that will help you educate your patients.

Having educational chiropractic charts instead of pretty paintings on your walls is analogous to talking about chiropractic on each visit versus just chit chatting about anything that seems interesting. What is going to help your patients get well faster, them getting a better understanding of chiropractic, or chit-chat about the weather? What´s going to build your practice faster, a patient who understands chiropractic enough to comfortably talk to friends and family about it, or a patient who knows you enjoy the summer more than the winter?

Always Remember You Are a Teacher

If you want to build your practice, you must accept your role as a teacher. You have a wide, open field of students; millions of them who know little or nothing about this marvelous health care profession called chiropractic. The good news about chiropractic will not make front page news or receive any kind of news publicity on a regular basis. Chiropractic will flourish visit-by-visit – as each visit a patient makes to his chiropractor and is taught about chiropractic, it results in more and more well-educated patients sharing their chiropractic knowledge with others.

Choose Your Weapon

There are many types of charts, visual aids, x-rays, handout sheets, and videos that can be used to educate your patients. Compare choosing your visual aids to buying a car. All cars have the same purpose - to get you from one place to another, but not all cars are the same. With cars, you have a choice of everything from size, color and shape. With visual aids, you also have a number of different choices. For example, you might prefer one degeneration chart over another because of its color, its price, its size, or any number of other reasons. The point is, no matter what degeneration chart you choose it will help you better communicate the degeneration process to your patients.

Here is a list of some of the charts and models that worked well for me in my office.

My List:
1. Gonstead Chart with disc herniations and degeneration pictures
2. Four phases of degeneration pictures that look like x-rays
3. Autonomic nervous system
4. A Neurospinalpatholator
5. A bony skeletal chart
6. A whiplash chart
7. A series of normal x-rays for each area of the spine, AP and lateral
8. A plastic spine
9. Smaller models of spine showing disc herniations and annulus tearing
10. Postural chart
11. Handouts on exercises
12. Pamphlets to hand to the patient for education pertaining to different health issues
13. Videos explaining whiplash
14. Videos explaining vertebral subluxation complex
15. Videos prior to a consultation (I made my own)
16. Videos prior to a report of findings (I made my own)
17. Videos after a report of findings
18. Videos of continuing education about chiropractic care

Visual aids are also a necessity when you are giving health care lectures. Don´t go re-inventing the wheel when it comes to flip charts, slide or power point presentations. There are numerous presentations available for you to choose from, and you will quickly recover your purchase cost in just one presentation – when done right, your health care lectures will produce lots of referrals from attending patients and their guests.

The More You Educate Your Patients, The More They Refer

Fill your office with attractive visual aids that stimulate chiropractic talk and make educating your patients convenient and effective. Learn how to comfortably use these aids to teach your patients about chiropractic on a level that they can easily understand and remember. However, these charts are just aids to your teaching. Having a lot of impressive looking charts and not knowing how to properly use them is like being on top of the ski slopes in a great looking outfit with the most expensive ski equipment and not knowing how to ski. What good is that?

The more you educate your patients, the more they will refer other patients and the more they will understand and accept wellness care for themselves and their family members.

Chiropractor Marketing Secrets: Proven Tips, Tricks and Strategies To Get More Patients.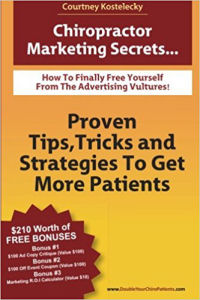 This book will help your business thrive, instead of survive. The focus of the book is getting more patients. The strategies include ideas and simple 'tweaks' to your offline advertising like phone books and direct mail. You will also discover how to effectively use online marketing, social media and video marketing to get new patients and to establish rapport with your current ones. The book is written in an easy to understand format. Included for the very first time is the strategy I used to take a chiropractor from page 12 of Google to Page 1 in 45 days. This strategy can be implemented in as little as 17 minutes per day with zero technical experience necessary. Whether you have been in business for a while, or you are just starting out- Chiropractor Marketing Secrets will give you the advantage your practice needs to thrive in today's economy. You will also learn... *How to avoid being 'scammed' by so called 'Internet Marketing Experts.' * The one thing that EVERY Chiropractor should have in their waiting room. * Effective Email Marketing. * How to Use YouTube to get more patients. *Simple 'Tweaks' to your website to Optimize if for Maximum patient accquistion. * MUCH MORE.