What is Chiropractic?
American Chiropractic Association
Chiropractic is a branch of the healing arts which is concerned with human health and disease processes. Doctors of Chiropractic are physicians who consider man as an integrated being and give special attention to the physiological and biochemical aspects including structural, spinal, musculoskeletal, neurological, vascular, nutritional, emotional and environmental relationships.
The practice and procedures which may be employed by Doctors of Chiropractic are based on the academic and clinical training received in and through accredited chiropractic colleges and include, but are not limited to, the use of current diagnostic and therapeutic procedures. Such procedures specifically include the adjustment and manipulation of the articulations and adjacent tissues of the human body, particularly of the spinal column. Included is the treatment of intersegmental aberrations for alleviation of related functional disorders.
Chiropractic is a drug-free, non-surgical science and, as such, does not include pharmaceuticals or incisive surgery. Due regard shall be given to the fact that state laws, as well as the nation's antitrust laws, may allow Doctors of Chiropractic to utilize ancillary health care procedures commonly referred to as being in the common domain.
History of Chiropractic Care
The roots of chiropractic care can be traced all the way back to the beginning of recorded time. Writings from China and Greece written in 2700 B.C. and 1500 B.C. mention spinal manipulation and the maneuvering of the lower extremities to ease low back pain. Hippocrates, the Greek physician, who lived from 460 to 357 B.C., also published texts detailing the importance of chiropractic care. In one of his writings he declares, "Get knowledge of the spine, for this is the requisite for many diseases".
In the United States, the practice of spinal manipulation began gaining momentum in the late nineteenth century. In 1895, Daniel David Palmer founded the Chiropractic profession in Davenport, Iowa. Palmer was well read in medical journals of his time and had great knowledge of the developments that were occurring throughout the world regarding anatomy and physiology. In 1897, Daniel David Palmer went on to begin the Palmer School of Chiropractic, which has continued to be one of the most prominent chiropractic colleges in the nation.
Throughout the twentieth century, doctors of chiropractic gained legal recognition in all fifty states. A continuing recognition and respect for the chiropractic profession in the United States has led to growing support for chiropractic care all over the world. The research that has emerged from " around the world" has yielded incredibly influential results, which have changed, shaped and molded perceptions of chiropractic care. The report, Chiropractic in New Zealand published in 1979 strongly supported the efficacy of chiropractic care and elicited medical cooperation in conjunction with chiropractic care. The 1993 Manga study published in Canada investigated the cost effectiveness of chiropractic care. The results of this study concluded that chiropractic care would save hundreds of millions of dollars annually with regard to work disability payments and direct health care costs.
Doctors of chiropractic have become pioneers in the field of non-invasive care promoting science-based approaches to a variety of ailments. A continuing dedication to chiropractic research could lead to even more discoveries in preventing and combating maladies in future years.
The Chiropractic Way: How Chiropractic Care Can Stop Your Pain and Help You Regain Your Health Without Drugs or Surgery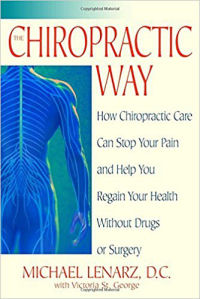 Chiropractic has become America's most popular form of alternative health care, offering lasting relief from pain, and many other health benefits, to more than 25 million patients annually. Yet many people still wonder exactly how chiropractic heals, and even experienced patients may be able to get more from their treatments. In this accessible and fascinating book, Dr. Michael Lenarz illuminates the basic principles of spinal health, showing how the body naturally lets go of stored pain and disease once the flow of vital energy has been restored. He also explains:
Why adjustments keep the communication flowing clearly, quickly, and cleanly
Why the billion-plus nerve pathways carried by the spine can be the key to a wide range of health problems--from arthritis, headaches, and back and neck pain to chronic fatigue and digestive ailments
Why many of the health complaints we associate with aging may in fact be the result of old injuries and therefore treatable
The different techniques of chiropractic, and how to choose the beset chiropractor for you.
PLUS--complete chapters on the diet, exercise, and stress-relief programs that will help you achieve a healthy, vibrant, energized, and pain-free lifestyle--the chiropractic way.
Education of Doctors of Chiropractic
Doctors of Chiropractic must complete four to five years at an accredited chiropractic college. The complete curriculum includes a minimum of 4,200 hours of classroom, laboratory and clinical experience. Approximately 555 hours are devoted to learning about adjustive techniques and spinal analysis in colleges of chiropractic. In medical schools, training to become proficient in manipulation is generally not required of, or offered to, students. The Council on Chiropractic Education requires that students have 90 hours of undergraduate courses with science as the focus.
Those intending to become doctors of chiropractic must also pass the national board exam and all exams required by the state in which the individual wishes to practice. The individual must also meet all individual state licensing requirements in order to become a doctor of chiropractic.
An individual studying to become a doctor of chiropractic receives an education in both the basic and clinical sciences and in related health subjects. The intention of the basic chiropractic curriculum is to provide an in-depth understanding of the structure and function of the human body in health and disease. The educational program includes training in the basic medical sciences, including anatomy with human dissection, physiology, and biochemistry. Thorough training is also obtained in differential diagnosis, radiology and therapeutic techniques. This means, a doctor of chiropractic can both diagnose and treat patients, which separates them from non-physician status providers, like physical therapists. According to the Council on Chiropractic Education DCs are trained as Primary care Providers.
What is a Doctor of Chiropractic?
The proper title for a doctor of chiropractic is "doctor" as they are considered physicians under Medicare and in the overwhelming majority of states. The professional credentials abbreviation " D.C." means doctor of chiropractic. ACA also advocates in its Policies on Public Health that DCs may be referred to as (chiropractic) physicians as well.
Chiropractic Philosophy
As a profession, the primary belief is in natural and conservative methods of health care. Doctors of chiropractic have a deep respect for the human body's ability to heal itself without the use of surgery or medication. These doctors devote careful attention to the biomechanics, structure and function of the spine, its effects on the musculoskeletal and neurological systems, and the role played by the proper function of these systems in the preservation and restoration of health. A Doctor of Chiropractic is one who is involved in the treatment and prevention of disease, as well as the promotion of public health, and a wellness approach to patient healthcare.
Scope of Practice
Doctors of Chiropractic frequently treat individuals with neuromusculoskeletal complaints, such as headaches, joint pain, neck pain, low back pain and sciatica. Chiropractors also treat patients with osteoarthritis, spinal disk conditions, carpal tunnel syndrome, tendonitis, sprains, and strains. However, the scope of conditions that Doctors of Chiropractic manage or provide care for is not limited to neuromusculoskeletal disorders. Chiropractors have the training to treat a variety of non-neuromusculoskeletal conditions such as: allergies, asthma, digestive disorders, otitis media (non-suppurative) and other disorders as new research is developed.
A variety of techniques, treatment and procedure are used to restore healing which will be the topic of future education releases.
--------------------------------------------------------------------------------
Works Cited
Chapman-Smith, David: The Chiropractic Profession. West Des Moines, Iowa, NCMIC Group Inc., 2000: 11-17, 70-71.
Chiropractic: State of Art. Arlington, Virginia, American Chiropractic Association, 1998: 2-3, 12-14.
Spinal Manipulation Policy Statement. Arlington, Virginia: American Chiropractic Association, 1999: 6.